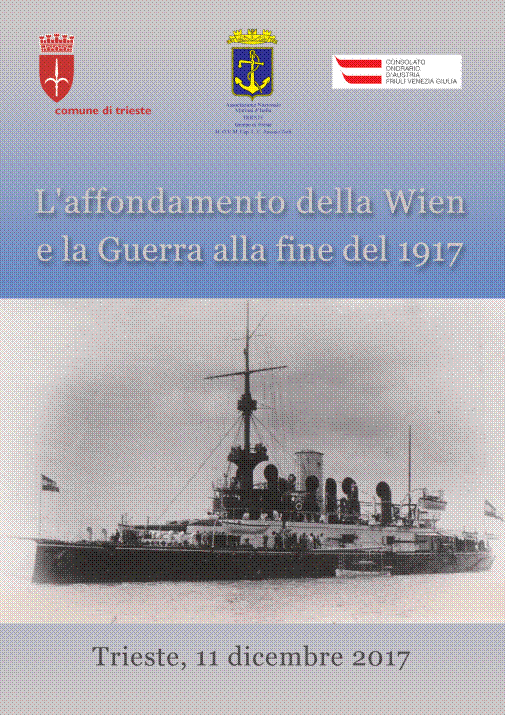 | | | |
| --- | --- | --- |
| | | |
| | | |
*Einladung von ANMI –Trieste an ÖMV.
Carissimo Karl il giorno 11 dicembre 2017
la Nostra Associazione commemorà i marinai caduti
nell'affondamento di Nave Wien come da programma
allegato.
Spero tu possa essere presente
Cordialmente
Antonio Botteghelli, Presidente
ANMI –Gruppo Trieste
*Dank von IMC- und ANMI- Präsident Admiral Paolo Pagnottella:
-------- Weitergeleitete Nachricht --------
| | |
| --- | --- |
| Betreff: | Re: Christmas 2017 |
| Datum: | Wed, 6 Dec 2017 16:12:41 +0000 |
| Von: | Paolo Pagnottella <paolopagnottella@hotmail.com> |
| An: | Karl Anton Skrivanek <aon.962630710@aon.at> |
Dear Karl,
first of all, I do thank you for your Xmas wishes and on behalf of all Italian Navy Veterans I want to reciprocate, with all our heart.
Your presence in Trieste is very welcomed by Italian sailors and is a clear demonstration of thrue solidariety and friendship, the foundating and remarked values of our IMC!
Have a nice staying in my Country, dear Karl, and best regards to Markus, hoping to see him insiede the austrian delegation next meeting, and Maria Teresa.
Paolo
Amm.Paolo Pagnottella,
Presidente I.M.C. and A.N.M.I.
*Dank an die kroatischen Partner des ÖMV –VANGA –Pula ,
die trotz schlechtem Wetter –Gewitter und Sturmböen auch in Istrien – der Einladung des ÖMV und der Veranstalter –Stadt Triest, ANMI- Gruppo Trieste/Presidente Antonio Botteghelli, gefolgt waren und somit ein großes Zeichen kameradschaftlicher Verbundenheit gesetzt haben. Ich danke Präsident Karlo Godina , seiner Gattin Ester und den Kameraden im Geiste von VIRIBUS UNITIS!
Karl Skrivanek
SMS Wien und Monarch-Schwesterschiff Budapest in der Adria
SMS Wien ("His Majesty's Ship Vienna") was one of three Monarch-class coastal defense ships built for the Austro-Hungarian Navy in the 1890s. After her commissioning, the ship participated in an international blockade of Crete during the Greco-Turkish War of 1897. Wien and the two other Monarch-class ships made several training cruises in the Mediterranean Sea in the early 1900s. They formed the 1st Capital Ship Division of the Austro-Hungarian Navy until they were replaced by the newly commissioned Habsburg-class predreadnought battleships at the turn of the century. In 1906 the three Monarchs were placed in reserve and only recommissioned for annual summer training exercises. After the start of World War I, Wien was recommissioned and assigned to 5th Division together with her sisters.
The division was sent to Cattaro in August 1914 to attack Montenegrin and French artillery that was bombarding the port and they remained there until mid-1917. Wien and her sister Budapest were sent to Trieste in August 1917 and bombarded Italian fortifications in the Gulf of Trieste. On the night of 9–10 December, while Wien and Budapest were at anchor in Trieste, two Italian torpedo boats managed to penetrate the harbor defenses undetected and fired several torpedoes at the two ships. Budapest was not hit, but Wien was struck by two torpedoes and sank in less than five minutes with the loss of 46 of her crew. The wreck was salvaged sometime during the 1920s by the Italians.
1.Weltkrieg
With the beginning of World War I the three Monarchs were recommissioned as the 5th Division. They were sent down to the Cattaro in August 1914 to attack Montenegrin artillery batteries on Mount Lov en bombarding the Austro-Hungarian naval base at Cattaro and the fortifications defending it. Budapest and her sisters arrived on 13 August, but their guns could not elevate sufficiently enough to engage all of the enemy artillery, which was reinforced by eight French guns on 19 October. The battleship Radetzky was summoned to deal with the guns two days later and she managed to knock out several French guns and forced the others to be withdrawn by 27 October. The Monarchs remained at Cattaro until mid-1917 to deter any further attacks. In August, Budapest and Wien were transferred to Trieste to serve as guard ships against Italian commando raids. Each ship was fitted with a 66-millimeter (2.6 in) anti-aircraft gun after their arrival on 26 August to counter constant Italian air attacks. Wien was damaged by a near miss on 5 September and both ships withdrew to Pola on 12 September.
They returned to Trieste on 30 Octoberand sortied into the Gulf of Trieste on 16 November to attack Italian coastal defenses at Cortellazzo, near the mouth of the Piave River. Budapest and Wien opened fire at 10:35 at a range of about 9–10 kilometers (5.6–6.2 mi) and knocked out most of the Italian guns after about a half-hour. Their bombardment was interrupted by several unsuccessful Italian air attacks before a more coordinated attack was made by five MAS torpedo boats and five aircraft around 13:30. This was also unsuccessful and the last Italian coast defense gun was knocked out an hour later.Wien was hit seven times in the superstructure and only lightly damaged; none of her crewmen were wounded.
Bow section of Wien at the Museo Storico Navale, Venice
Anxious to revenge themselves against the Austro-Hungarians, the Regia Marina (Royal Italian Navy) made plans for a sneak attack on the two ships in their berths in the Bay of Muggia, near Trieste, by MAS launches. On the night of 9/10 December, two MAS boats managed to penetrate the harbor defenses undetected, and fired torpedoes at Wien and Budapest at 02:32. The torpedoes fired at Budapest missed, but Wien was hit by two torpedoes fired by MAS 9, commanded by Lieutenant Commander (tenente di vascello) Luigi Rizzo, that blew a hole 10.5-meter (34 ft) wide abreast the boiler rooms. All of the watertight doors were open on board the Wien and the ship capsized in five minutes despite an attempt to counter her growing list by flooding the trim tanks on the opposite side. The attack killed 46 members of the crew Both Italian boats escaped without being detected and Rizzo was awarded the Gold Medal of Military Valor.
Wien was buried in the mud of the harbor bottom at a depth of 16.5 meters (54 ft) and salvage of the ship was ordered on 14 December. That same day the navy convened a court-martial of Vice Admiral Alfred Freiherr von Koudelka, commander of the naval district, the captains of both ships, and the commander of the naval defenses of Trieste. On 16 January 1918, the court convicted all four individuals for failing to take all possible precautions to protect the ships and failing to ensure that the precautions were taken. As punishment the court recommended that Koudelka and the two ship captains be retired and the commander of the naval defenses of Trieste to be returned to his former reserve status. Emperor Karl approved the recommendations on 23 January.
The navy ordered that the salvage of Wien be stopped on 7 June and the wreck was ultimately salvaged by the Italians sometime during the 1920s. A section of the ship's bow is on display at the Museo Storico Navale in Venice.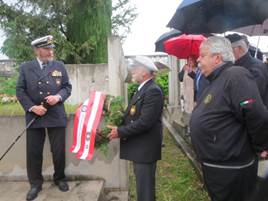 ÖMV-Präs. Prof DI Karl Skrivanek , Erzherzog Markus Salvator ,Präs.Cav.Antonio Botteghelli –ANMI -Trieste
Die Erinnerungsstätte am St Anna –Friedhof von TRIEST –ÖMV-Besuch 2013
Canal Grande , Borgo Teresiano –Trieste
Im Hintergrund die Kirche Sant'Antonio Nuovo( 1842)
Prof.Karl Skrivanek,Oberst dhmtD
Präsident ÖMV
Wien, 02.12.2017