Reception at The Austrian Embassy in London to mark the foundation of
"The Admiral the Viscount Keppel of Elverden Association"
and its partnership with the Österreichischer Marineverband (ÖMV), Monday , 22 . May 2006.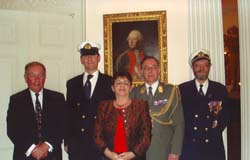 On 22nd May, Her Excellency The Austrian Ambassador, Dr Gabriele Mainzer-Holzer and The Defense Attache, BrigGen Mag. Michael Derman invited  the President of  the Östereichische Marineverband- Col Prof Karl Skrivanek, a very good old friend of Brigadier General Magister Michael Derman , who came for this occasion from Vienna to London-  and  Cav. Mag. Philip Bonn, the UK Delegate to ÖMV, to an evening reception at the impressive classical Embassy building, at 18, Belgrave Square, where the formal creation of The Admiral Viscount Keppel Association was celebrated, in the presence of several important senior Royal Navy Officers, including Admiral Sir James Perowne KBE and Vice Admiral John Mcnally, British Representative of the IMC.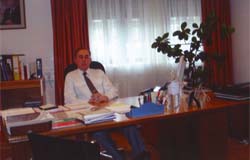 The British association was named after Admiral Viscount van Keppel of Elveden, the ancestor of Cav. Bonn, who was responsible, together with his elder brother, the Graf Albemarle, and his younger brother, a Major General, for the British conquest of Cuba and reduction of the Havanas in 1762. Admiral Viscount Keppel was also the ancestor of Joanna, Archduchess of Austria (1547-1578), the daughter of the Habsburg Holy Roman Emperor Ferdinand I. The wife of HRH Prince of Wales, Camilla, The Duchess of Cornwall is the 3rd degree cousin of Cav. Bonn, and she is also, therefore a van Keppel and a Habsburg descendant.
The evening began with champagne at 6.30pm and guests were greeted by The Ambassador, Defense Attache and Cav. Mag. Bonn at the top of the grand staircase. President Col Prof Skrivanek  greeted the guests in the main hall. A young pianist played Mozart, for the evening, to celebrate the 250th anniversary of this great Austrian composer.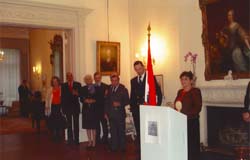 The evening's proceedings began with the Trumpet Fanfare and Drum Roll from Handel's Coronation Mass for Hs Majesty King George V. The Flag of the Republic of Austria was paraded in by Usher Herr David Oldfield, Councillor Herr Colin MacGregor carried in a red  cushion with the sword of Admiral Viscount Keppel upon it, and Councillor Dr Neil Hitchin carried on a silver tray of the Keppel Family, the papers of Honorary Membership of Brigadier Derman and Cav. Mag. Bonn.
The President of OMV made an interesting and informative speech about Austrian Naval History and then read the greetings from Mag. Markus Habsburg and Mme. Anne von Hohenberg.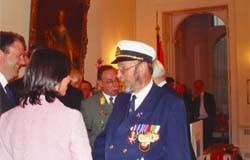 Mag. Markus Habsburg , grand-grand son of Emperor Franz Josef I and Emprerss Elisabeth said in this welcome address: I certainly would like to attend this get- together but was earlier asked to attend another meeting for a book launch at the Schloss TIROL in Merano , where Archduke Maximilian wrote his diary about his seatravel aboard the "Kaiserin Elisabeth " –ship. I would like to brotherly greet all here and ask you as a friend to accept my absence – however – I lift my glass with a great TOAST to everybody here.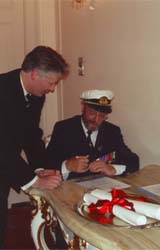 Princess Anne v. Hohenberg; said in her address: "In Artstetten castle in Lower Austria , where my great ancestore archduke Franz Ferdinand is buried , we keep up the reradition of commemoration of his very active engagement for the responsibility in everything what had to do with the Marine of this great Imperial Austria before1918 We respect the past and encourage the future as new friendship and understanding can be built up for us all. So today I also invite you to have a thought of this Protector ."
The Partnership Agreement was signed between The President Karl Skrivanek, representing ÖMV, together with the Naval Association of Admiral Viscount Keppel, and Cav. Bonn was appointed Delegate to ÖMV, using the Sword of Keppel for his investiture. Bgdr Magister Michael Derman was appointed honoury member of the Österreichischer Marineverband , for his great merits of this Association.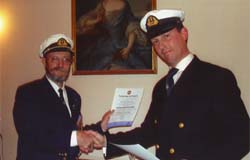 There were many important and distinguished guests but some of them included: Princess Galitzine,The Countess of Cardigan (sister in law of Cav. Mag. Bonn),Viscount and Viscounntess Maitland, Mdm Antonia Czernin and Stephanie Czernin, relatives of Count Franz Czernin, late member of ÖMV and good friend of President Karl Skrivanek, Viscount Gough, Baroness von Friessen, Major Christopher Bonn of Oaklands, 2nd Cousin of HRH The Duchess of Cornwall and formerly Equerry to HRH Prince Philip, Duke of Edinburgh  (Father of Cav. Mag. Bonn),Lady Olga Maitland, Admiral Sir James Perowne, Vice Admiral McNally( President of  Royal Navy Association, member of  International Maritime Association- specially invited by President ÖMV, Sir David Hardy (former President The Maritime Museum, UK),Captain Frank Murphy, United States Navy, Lieutenant Christian Maris, Royal Canadian Navy, Major Narindar Saroop, Major Michael Broadhurst, Captain Anthony Innes, The Maltese Ambassador, The Delegate of The Dutch Ambassador .........and many other distinguished guests
On the eve of the Embassy reception a visit was also arranged for The President of ÖMV, by Cav. Mag. Bonn, to the famous "Tiroler Hut" Austrian restaurant, near Kensington Palace. This restaurant provides reasonably priced good Austrian food and charming musical entertainment, in the Austrian tradition. By kindness of the Defense Attache, an Embassy car was provided so that the President was able to visit Kensington Palace, Buckingham Palace, The Palace of Westminster , ships on Thames river side , as the " PRESIDENT" and other important London landmarks, during his visit.
The event was thought to be a great success by all and I thank the Ambassador of Austria, Her Excellency Dr Gabrielle Matzner- Holzer and the Austrian Embassy for this great invitation. Next event will be a dinner at Britains most prestigious private Gentlemans Club, Whites, by St James's Palace, to take place in the autumn.
Cav. Magister Philip Bonn,
UK Delegate of Österreichischer Marineverband and
Member of Marinekameradschaft Admiral Erzherzog Franz Ferdinand, Wien in ÖMV

Col Prof DI Karl Skrivanek,
President of Österreichischer Marineverband.
Austrian Naval Power during the Centuries
and the History
Tradition and Future of Austrian Naval Associations
London, 22. 05. 2006
Your Excellency,
Defence Attache
My Lords, Ladies and Gentlemen,
I am very glad to have the opportunity to join you today here in the Austrian Embassy and to give you a little glimpse of the Austrian, or Austro – Hungarian Imperial Naval tradition, represented today by the Österreichischer Marineverband, the traditional Austrian Naval Association, of which I have been president since the year 2000. I am happy that I could come today from Vienna for this event.
The ÖMV is today the head organisation for all the Austrian regional maritime associations. It is based on the former "Verein zur Förderung der Österreichischen Schifffahrt" founded in 1904. In 1907 the "Österreichische Flottenvereein" became the successor organization. In 1908, Archduke Franz Ferdinand, the son of Emperor Franz Joseph, who was Admiral of the Austro-Hungarian Navy and the patron of this organization succeeded to the throne of the Austro- Hungarian Empire. The Imperial and Royal Navy (k.u.k. Kriegsmarine) was at that time the 7th largest fleet in the world!
Let me outline the history of the Austrian Navy for you.
In the 14th century parts of the Adriatic coast already belonged to the Habsburgs, but the slowly developing maritime trade was merely based on the initiative of its inhabitants, who also protected trade ships against Ottoman and Moorish pirates. Building a navy seemed unnecessary.
The wars against the OTTOMANS in the 17th and 18th centuries brought into being the imperial Danube flotilla, to oppose the Ottoman naval power on the river Danube on the one hand, and to support military land operations on the other. During the reign of the Emperor Joseph II an Austrian navy was created, but the warships of this navy were few in number due to financial difficulties faced by the government. With the peace of Campoformido, in 1797, Venice and Dalmatia became part of the Habsburg dominions, which brought the Venetian fleet under Habsburg control. The Ventian fleet would later form the basis of the imperial navy.
During the first half of the 19th century Venice remained the main harbour of the navy, as new harbours like Pola and Cattaro were built only later in the century. The importance of the Austrian navy manifested itself in the victories at sea of Wilhelm von Tegetthoff at Helgoland and at Lissa in 1866. In the following years the fleet was steadily increased in size, and like other navies of the Great Powers, iron replaced timber as the main building material for the ships.
Apart from purely military tasks, the navy was also of importance to the national economy and to science, with Austrian warships being used in support of various research voyages. Voyages to Asia, America, Africa, Australia and the Arctic were made, and the frigate " Novara" made the first global circumnavigation from 1857 to 1859.
The heir apparent, the Archduke Franz Ferdinand, was a strong supporter of the navy, and this support enabled many ships to be built, and the first Austrian submarines entered the naval service in 1908. Thus the Monarchy was able to deploy of one of the most powerful fleets in the world at the beginning of World War I.
During World War I the navy's main task was to protect the Dalmatian coast, for the allied blockade at Otranto had confined its operational area to the Adriatic Sea. After the fall of the Habsburg monarchy in autumn 1918 Austria, the Austro-Hungarian navy was disbanded, and Austria lost its maritime possessions, with its ships distributed among the successor states and the allies.
In 1918 – before the end of World War I – the Association had more than 80,000 members and more than 200 regional groups , some of them being outside the former Empire, in places like Alexandria, Beirut, Berlin, Brussels, Dresden, and elsewhere. Before 1914 the Flottenverein even had partner Associations in the UK.
Nevertheless the naval heritage was continued by the Österreichischer Marineverband, which is now the bearer of the great Austrian naval tradition.
The motto of the Association is "VIRIBUS UNITIS" - Men who are united by the Sea.
Since 3.1. 2000 the ÖMV has become an official partner association with the Austrian Armed Forces. I myself am also a retired Colonel in the Austrian Armed Forces, and I am glad to have this opportunity to meet again my friend Brigadier General Mag Derman in this new capacity. Today the ÖMV's traditional partners are the Pioneers (ie Engineer-Units) of Austrian Armed Forces.
It is part of the mission-statement of the ÖMV to seek to build international relationships. This important programme is illustrated by the activities now being undertaken in the International Maritime Confederation. We all are a family, united by the sea. The ÖMV is foundation member (since 1970) of the IMC, to which the National Maritime Associations of Austria, Belgium, Croatia France, Germany, Italy and The Netherlands and United Kingdom belong. It was my idea that the ÖMV should develop partnership between Austria and Croatia, to bring Croatia to IMC and to develop also partnerships with some Italian Associations.
We currently have many other international partnerships in Germany and Italy and we work closely with all IMC Associations.
This year ÖMV has invited our partners from Croatia and Italy to be with us on 20. July 2006 at the 140 years Memorial Day of the sea battle of Lissa between Austro – Hungarian and Italian Navy in 1866. This should show that enemies of yesterday became now friends and partners. Many Italians followed my call to pray together with Austrians and Croatians for the seamen, who lost their lives in this battle. This should also open the eyes for cooperation in future Europe.
This will then be followed in Sept 2006 by the annual Council meeting of the IMC, which will be held from Sept 9th- to 12th in Portsmouth.
When I met with Cav. Mag. Philip Bonn, through the kind introduction of his kinsman, Mag. Markus Habsburg, we together conceived the idea to set up the first direct partnership in the UK in addition to our membership in the IMC. This is now established as the "Naval Association of the Admiral Viscount Keppel of Elveden (UK Partner - Delegation of the ÖMV)", whose president and Delegate is Cav. Mag Philip Bonn.
I am glad that the Austrian Ambassador to the Court of St James', Frau Doktor Gabriele Matzner-Holzer, honours the ÖMV and the guests with the invitation to this very special reception party on May 22th at the Embassy in London and I thank also my friend Brigadier-General Michael Derman, the Austrian Defence Attache, for his kind support.
We are sure, that this cooperation will bring add much to the friendship of the people of the UK and Austria, carrying forward a great tradition, developed by the two nations in the past, and the foundation of the British Association takes place during the period after Great Britain has handed over her presidency of the European Union to Austria.
I am glad to welcome Brigade General Mag Michael Derman at this event as honorary Member of ÖMV, and would like to invest him now in this honorary rank.
(HAND SCROLL TO BRIGADIER DERMOT) I am also happy to announce that many other high-ranking military figures, and other distinguished people have already been honored by receiving membership of the ÖMV.
It is also our pleasure to welcome Mag Markus Habsburg – Lothringen, the great grand son of Emperor Franz Joseph, who still lives at the Imperial Villa in Bad Ischl among this esteemed membership.
Likewise, Archduke Franz Ferdinand was historically protector of the Österreichischer Flottenverein , the predecessor of ÖMV, and currently, the grand daughter of Admiral Archduke Franz Ferdinand, Princess Anne von Hohenberg is the official patron of the Admiral Archduke Franz Ferdinand Naval Association. Her appointment shows once more the OMV's feeling for tradition.
The distinguished naval tradition of Great Britain is now represented in the name of our new British Partner the Naval Association of Admiral Viscount Keppel of Elvedon, who was responsible with his two brothers, both Major Generals, for the reduction of the Havanas in 1762 and the famous destruction of the supposedly impregnable Morro fortress which led to the conquest of Cuba from the Spanish.
The foundation of the Admiral Viscount Keppel Naval Association is significant for Austria because it shows not only tradition, but our common belief in the importance of international cooperation in the question to strive towards joint objectives in a common future.
Together with Her Excellency the Austrian Ambassador and the Austrian Defence Attache, and Cav Mag Philip Bonn, the newly appointed President of Admiral Viscount Keppel Naval Association and Delegate of ÖMV in UK , I am pleased to welcome you to this important event, and I wish you all a very pleasant and convivial evening here at the Embassy.

Empfang für den ÖMV an der österreichischen Botschaft in London anlässlich der Gründung der "Admiral Viscount Keppel of Elveden Naval Association" und ihrer Partnerschaft mit dem Österreichischen Marineverband
Montag 22. Mai 2006
Am 22. Mai luden die österreichische Botschafterin in London, I. E. Dr. Gabriele Matzner -Holzer und der österreichische Verteidigungsattache, Bgdr Mag. Michael Derman zu einem Abendempfang in die klassisch schönen Botschaftsräume in 18, Belgrave Square, nahe dem Buckingham Palast, ein.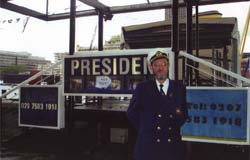 Diese Veranstaltung wurde aus Anlass der Gründung der Admiral Viscount Keppel Association gegeben, bei der viele wichtige hohe Offiziere der Royal Navy, wie z.B. Admiral Sir James Perownw KBE und Vize- Admiral John McAnally, der britische Repräsentant in der IMC anwesend waren.
Der Präsident des Österreichischen Marineverbandes, Oberst dhmtD Prof Dipl. Ing Karl Skrivanek, ein alter Freund von Bgdr Mag. Michael Derman, kam speziell von Wien zu diesem Anlass nach London.
Die UK Association des ÖMV , deren Präsident Cav. Mag. Philip Bonn ist, wurde nach Admiral Viscount van Keppel of Elveden, dem Vorfahr von Cav. Bonn benannt. Jener war , zusammen mit seinem älteren Bruder , Graf Albemarle und seinem jüngeren Bruder, Generalleutnant William van Keppel , verantwortlich für die britische Eroberung von Cuba und die Einschränkung der Havannas im Jahre 1762.Admiral Viscount Keppel stammt auch von Johanna, Erzherzogin von Österreich ( 1547-1578), der Tochter des Kaisers des hl römischen Reiches Ferdinand I: Die Frau des Prinzen von Wales , Camilla , Herzogin von Cornwall und die Herzogin von Tothesay sind Cousinen 3. Grades von Cav. Bonn und sie stammt aber auch von den Familien Van Keppel und Habsburg ab.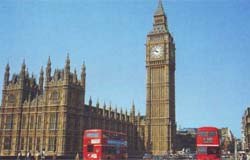 Der Abend begann um 18: 30 mit einem Champagner – Empfang und die Gäste wurden von I. E., Frau Botschafterin, vom Verteidigungsattache und von Cav. Bonn am oberen Stiegenaufgang begrüßt, während Präsident Oberst Prof Karl Skrivanek die Gäste im Hauptsaal begrüßte. Die talentierte junge Pianistin Laura Omeroglu spielte während des Abends ausgewählte Stücke von Mozart, zur Feier des 250. Jahrestages des großen österreichischen Komponisten. Der Abend wurde fortgesetzt mit einer Trompetenfanfare und einem Trommelwirbel aus Händel's Krönungsmesse für S. M. König George II.
Die Fahne der Republik Österreich wurde gehisst vom Herold Herrn David Oldridge; Kanzler Herr MacGregor brachte auf einem roten Kissen das Schwert von Admiral Viscount Keppel und Kanzler Dr Neil Hitchin brachte auf einem silbernen Tablett der Keppel Familie die Urkunden zur Ehrenmitgliedschaft für Bgdr Mag Michael Derman und für Cav. Mag. Philip Bonn.
Der Präsident hielt einen interessanten und informativen Vortrag über die Österreichische Marinegeschichte und las dann die Grußworte von Mag Markus Habsburg –Lothringen und von Fürstin Anne von Hohenberg.
Mag Markus Habsburg – Lothringen, Ururenkel von Kaiser Franz Josef I und von Kaiserin Elisabeth sagte in seine Grußadresse: "ich wäre gerne zu dieser Veranstaltung gekommen, aber ältere Verpflichtungen riefen mich nach Schloss Tirol bei Meran, wo Kaiser Maximilian das Tagebuch über seine Reise an Bord des Schiffes " Kaiserin Elisabeth " geschrieben hatte. "Ich schicke gerne brüderliche Grüße an Sie alle und bitte Sie, als ein Freund, meine Abwesenheit zu entschuldigen. Ich erhebe mein Glas mit einem großen Toast für Sie alle!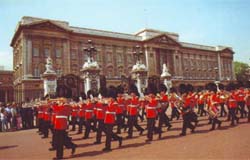 Fürstin Anne von Hohenberg sagte in Ihrer Grußbotschaft: "Im Schloss Artstetten in Niederösterreich, wo mein großer Vorfahre Erzherzog Franz Ferdinand begraben ist, halten wir die Tradition der der Erinnerung an sein überaus aktives Engagement für die Kriegsmarine dieses großen kaiserlichen Österreich vor 1918.Wir respektieren die Vergangenheit und blicken in die Zukunft, in der Hoffnung , das neue Freundschaft und Verständnis für uns alle aufgebaut werden kann. So lade ich Sie ein, heute dieses Protektors zu Gedenk"
Die Partnerschaftsvereinbarung wurde von Präsident Karl Skrivanek- der den ÖMV repräsentierte- und von der Admiral Viscount Keppel (Naval) Association, unterschrieben und Cav. Bonn wurde zum Delegierten des ÖMV in UK berufen, wobei das Schwert von Keppel für die Zeremonie verwendet wurde. Bgdr Mag. Michael Derman wurde in gleicher Weise zum Ehrenmitglied des Österreichischen Marineverbandes ernannt, als Dank für seine großen Verdienste um diesen Verband.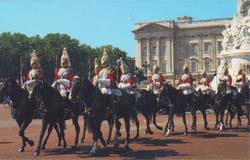 Es waren viele wichtige und ausgewählte Gäste erschienen, unter ihnen: der Botschafter von Malta, Der Gesandte des niederländischen Botschafters, Prinzessin Galitzine, Gräfin von Carignan (Schwägerin von Cav. Mag. Bonn), Madame Antonia Czernin und Stephanie Czernin, Verwandte von Graf Franz Czernin verstorbenes Mitglied des ÖMV und guter Freund von Präsident Karl Skrivanek, Viscount und Viscountess Maitland, Viscount Gough, Baroness von Friessen, Major Christopher Bonn of Oaklands, Vater von Cav Mag. Bonn und Cousin 2. Grades der Herzogin von Cornwall, Admial Sir James Perowne, Vize Admiral Johm Mc Anally (President of Royal Navy Association, Mitglied der International Maritime Association, speziell eingeladen vom Präsident ÖMV), Sir David Hardy (früher President of The Maitime Museum, Greenwich, UK) und viele Andere.
Nach dem Empfang an der Botschaft besuchte Cav. Mag. Bonn mit Präsident Skrivanek das bekannte österreichische Restaurant "Tiroler Hut", nahe dem Kensington Palast. Das Restaurant bietet gute österreichische Küche und charmantes musikalische Unterhaltungsprogramm in österreichischer Tradition.
Auf Initiative des Verteidigungsattache wurde Präsident Skrivanek ein Botschaftswagen zur Verfügung gestellt , so dass es ihm möglich wurde Kensington Palace, Buckingham Palace , Westminster Palace und auch einige Schiffe auf der Themse, wie z.B. den " PRESIDENT" während seines Besuches zu sehen.
Der Empfang an der Österreichischen Botschaft wird von allen als großer Erfolg gesehen und es bleibt mir nur, allen herzlich zu danken; Ihrer Exzellenz Dr Gabriele Matzner – Holzer, Botschafterin von Österreich und der Österreichischen Botschaft danke ich für die freundliche Gastfreundschaft. Die nächste Veranstaltung wird ein Dinner zu Ehren von Admiral Viscount Keppel (Naval) Association in Whites (gegründet 1693), nahe St James Palace, im Herbst 2006 sein.
Cav. Magister Philip Bonn,
Delegierter des Österreichischen Marineverbandes in UK und
Mitglied der Marinekameradschaft Admiral Erzherzog Franz Ferdinand, Wien in ÖMV